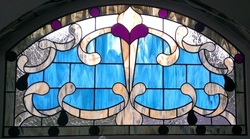 Vancouver used to have a much stronger Stained Glass presence in the past. With the rapid expansion of new housing developments in the suburbs like Surrey or Langley, Stained Glass windows or doors are seldom considered or implemented.
If there is decorative glass at all, then only overseas replicas that are inexpensive and offer the homeowner a feeling that they are getting a little bit more value.

We feel that any decorative glass should be chosen by the customer because it is what they personally like. It could be a glimpse into their history perhaps.
We hope for the return of the courage to be unique when it comes to picking custom glass windows and doors.